Hello my sweet gals,
how are you???
Do you have nice weather??? Here in Nuremberg it's raining for 2 days!!! -.- And it seems it won't stop raining! I hate rainy weather!!!! I hope the weather will get better soon! *_*
Finally I made the
Circle Lens Review
! haha I already promised it in february, right? xD sorry!
Barbie King Size Brown:

Origin: Korea
Diameter : 14.5mm
Water Content : 38%
Life Span : 1 year disposal

Enlargement: 9/10

The lenses make your eyes very big. I like them alot. The big black circle make your eyes very big and it makes a "dolly effect". I'm satisfied with them!

Color: 7/10

Actually I was a bit disappointed. I expected they would be lighter. Overall I like the color. Even if it's not the color I expected. On the daylight they are darkbrown. From for far away you can't see that they are contact lenses. If you get close to your face you will see the color better. Now it's no more dark brow, it's more like honey brown. And the lenses seem lighter.

Comfort: 9 1/2 /10
The lenses are very comfortable. I can wear them for 8-10 hours without notice them in my eye. But I always use eye drops. After 10 hours you should definitely put them out or otherwise your eyes get irritated.
Super Pinky Blue:
Diameter : 15mm
Water Content : 55%
Life Span : 1 year disposal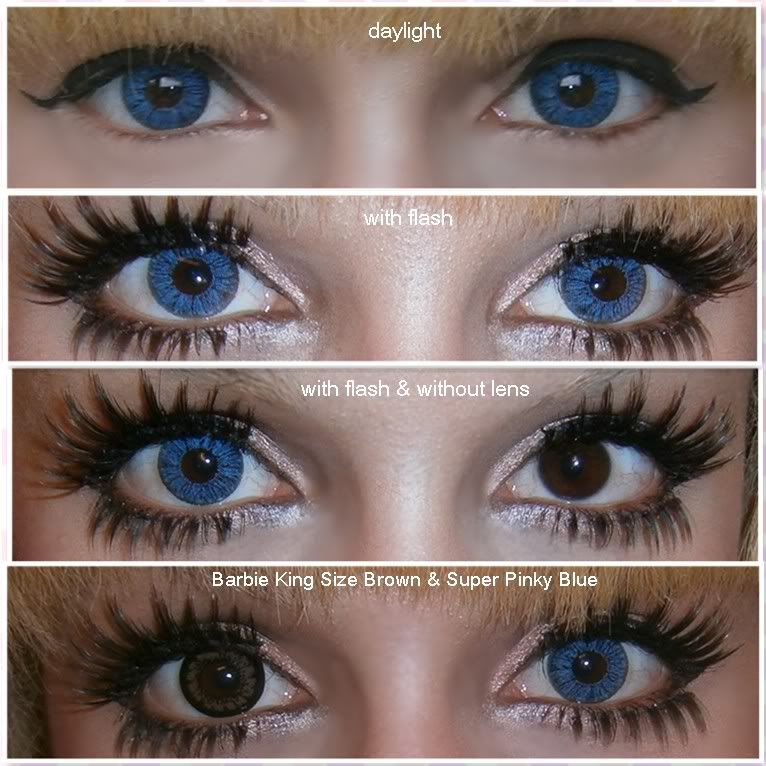 Enlargement: 3/10
I'm very diappointed from these lenses. They don't make your eyes look big. They just look like normal contact lenses. When I just wear one of the lenses I see the enlargement. But when I wear both of them, you hardly can see that they are 15 mm. On pictures they looked really big! But anyway. I can't see any enlargement! :(
Color: 9/10
The color is very nice. On the daylight they are dark blue but somehow they shine! haha I can't explain that! xD They are dark blue but you will definitely notice them!
With flash they look very unnatural and they are very light. But i like that! Something what's definitely missing is a big black circle around them. They already have a greyish circle but it's to thin. You have to look very closely to notice it.
Comfort: 10/10
This is the best thing about the lenses. They are so comfortable. I can't notice them in my eye. And the diameter is 15 mm!!! The Geo Princess Mimi Aplle Green have the same diameter but I can feel them. Especially when I get tired! But the Super Pinky Blue lenses feel like my normal contact lenses! That's very very good! They are the comfiest lenses I ever had worn!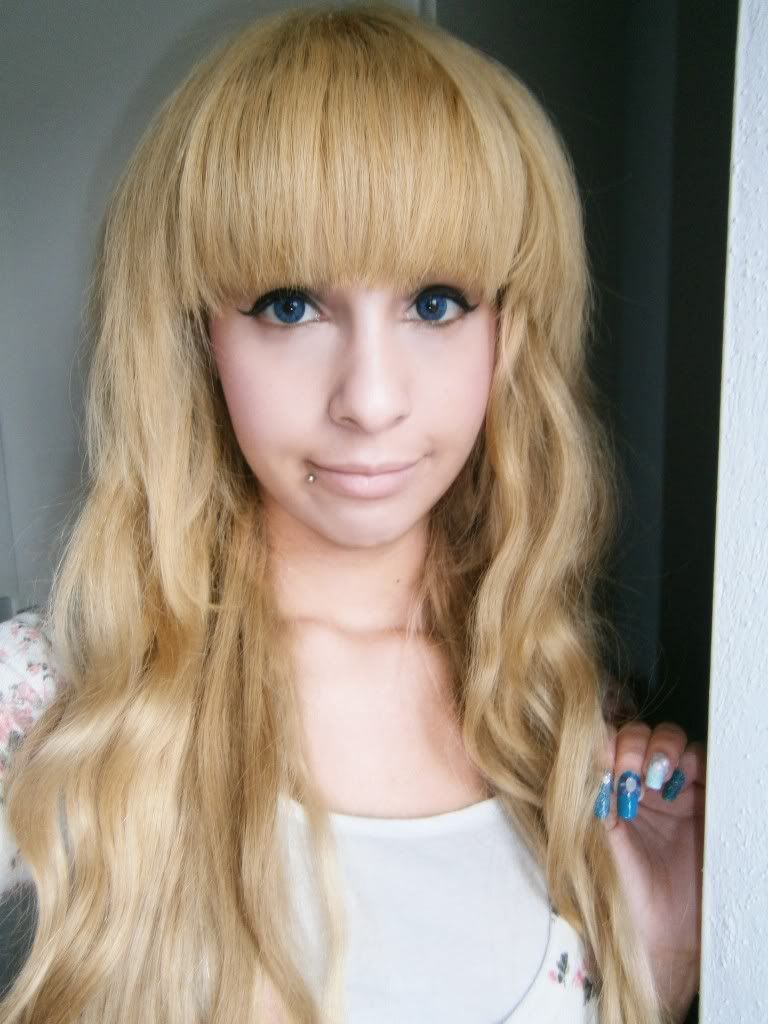 Me wearing the Super Pinky Blue Lenses!
I hope you liked the review and I hope it was instructive!!! ♥
In the next day I will do the Geo Princess Mimi Apple Green Review!
♥♥♥♥♥♥♥
love you ♥~
Yaya